All Major Brands Serviced
Microscopy
Microtomy
Image Analysis
Video Systems PC's
Micromanipulation
All Lab Equipment
Authorized Dealer For:
All Lab Supplies Consumables, Chemicals, Reagents, Clean Room Supplies
Contact Information
George Spencer
1 Symphony Lane
Derry, NH
Phone: 603-437-0711
Fax: 603-432-0215
E-Mail: George Spencer
What's New

Sakura Tissue Tek 3 (Orange)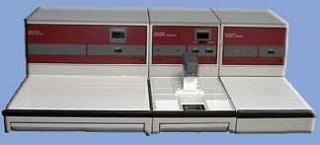 Info Box
Sakura tissue Tek III Embedding Center consists of three consoles: Thermal Console, Dispensing Console and Cryo Console. Modular design allows for configuration left to right or right to left.


The operator keeps molten paraffin in the dispensing console, and a supply of base molds in the thermal console. Processed tissues, in cassettes, are temporarily placed in another portion of the thermal console. A few base molds may be laid out for convenience on the warmed working surface of the dispensing console. When a cassette is opened, each tissue is moved into a base mold using a forceps. The forceps is kept warm near the working area to prevent the paraffin on the specimen from sticking to the forceps. The base mold, holding the properly positioned tissue is moved onto a small, chilled "cold spot" on the working surface, and the paraffin is allowed to harden to hold the specimen in place. A tamper may be used to press tissue against the base mold surface. When the tissue is securely in position, the cassette carrying specimen identifications is then placed over the base mold. Paraffin is dispensed into the base mold to fill it, and the embedded tissue is placed onto the chilled surface of the cryo console for complete hardening.