All Major Brands Serviced
Microscopy
Microtomy
Image Analysis
Video Systems PC's
Micromanipulation
All Lab Equipment
Authorized Dealer For:
All Lab Supplies Consumables, Chemicals, Reagents, Clean Room Supplies
Contact Information
George Spencer
1 Symphony Lane
Derry, NH
Phone: 603-437-0711
Fax: 603-432-0215
E-Mail:George Spencer
What's New

Tissue-Tek VIP E150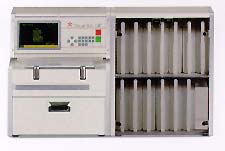 Info Box
Modular design, configurable to your lab. Available in traditional bench-top or floor models.
Flexible, self-calculating delay mode coordinates completion of processing to enhance workflow.
Computer monitors all steps in processing sequence - safeguarding your specimens and protecting your system.
All-station, operator-selectable control for each station; provides faster fluid exchange with all tissue samples.
Precisely located heater elements provide uniform reagent temperatures throughout the retort during processing.
Gentle tidal agitation ensures optimal reagent mixing while reducing tissue cross-contamination.
Paraffin cleansing-automatically degasses the paraffin while in the oven, eliminating additional retort cleaning cycles.
Full-screen display for complete information at a glance.
Comprehensive, easy-access control panel for complete system management.
Basket design allows upright placement of cassette specimens and fits all standard embedding consoles for greater convenience.